JUDGE ISSUES RULING IN NLRB CHARGE AGAINST UAW LEADERSHIP AND FORD CONTRACTOR -ILLEGALLY DISPLACED EMPLOYEES TO BE RETURNED TO WORK WITH FULL BACK PAY AND BENEFITS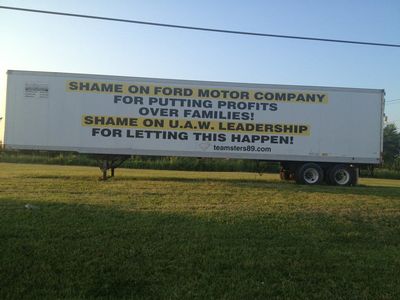 On December 21, 2012, Administrative Law Judge Bruce D. Rosenstein of the National Labor Relations Board issued a Decision & Order against Voith Industrial Services, Inc. (a Ford Motor Co. contractor), the United Auto Workers (Detroit, MI), and United Auto Workers Local Union No. 862 (Louisville, KY). Judge Rosenstein found that Voith, UAW, and UAW Local Union No. 862 had engaged in a number of unfair labor practices at Ford's Louisville Assembly Plant including the denial of workers' rights under the National Labor Relations Act.

The violations stem from an unlawful scheme to displace and discriminate against workers employed at the facility, as well as unlawfully recognize the UAW as the collective bargaining representatives of jobs historically maintained by members of Teamsters Local Union No. 89 (Louisville, KY) since the early 1950's.

In February, Voith was awarded a contract from Ford to receive the new Ford Escapes flowing from the facility and stage them for transportation to dealerships across the nation. Voith and the UAW (collectively) conspired to terminate the employment rights of approximately 166 individuals already employed in the receiving operation at the facility. The intent of the actions taken by the UAW, Local 862, and Voith was to disgracefully strip the fair wages and benefits paid to any employees holding those jobs.

A formal Complaint was issued by the NLRB against Voith, UAW, and UAW Local No. 862 on June, 19 2012, seeking back-pay and restoration of employment for any affected employees unlawfully displaced. The Complaint was defended by Attorneys Gary Marsack (Milwaukee, WI) and Stephen Richey (Cincinnati, OH) on behalf of Voith and Michelle Henry & Irwin Cutler (Louisville, Kentucky) on behalf of the UAW and UAW Local Union No. 862. After a lengthy hearing, Judge Rosenstein issued a 34 page Decision in favor of Teamsters Local 89 and its members.

The remedy contained in the Decision includes a full back pay and benefits award for every unlawfully displaced worker likely amounting to several million dollars. As well, Judge Rosenstein ordered all Local Union No. 89 members be immediately returned to their previous positions and issued a Cease and Desist Order against any ongoing unlawful activities of Voith, UAW, and UAW Local Union No.862.

"Judge Rosenstein's Decision is a victory for the hard working members of Local 89 employed at Ford's Louisville Assembly Plant", said Local 89 President Fred Zuckerman. "Unions should be working to protect wages and benefits of hard working Americans, not conspiring to undermine them."
Please read the briefing by the General Counsel to the Adminstrative Law Judge here
Please read Judge Rosenstein's decision here
Voith was found to have:

*Violated Section 8(a)(1) of the National Labor Relations Act by informing applicants they would be required to be a member of the UAW and refrain from engaging in protected union activity under Section 7 of the Act. Judge Rosenstein also ruled Voith's action in denying Teamsters Local 89 access to its employees while granting access to the UAW was in further violation of the NLRA.
* Violated the act in Section 8(a)(1) and (2) by allowing the the UAW to meet with its employees on work time to urge employees to sign "check-off" authorizations. The contractor further violated the law in giving recognition to the UAW despite it not representing "an uncoerced majority of the unit".
*Executed a plan to hire 84 employees with the intention of discriminating against members of Teamsters Local 89 who were former members of Auto Handling Inc. because they were exercising their right to engage in concerted activities. Judge Rosenstein also found this was also with the intention of avoiding "an obligation to recognize and bargain with the Teamsters."
*As a successor employer, Voith had and obligation to bargain with Teamsters Local 89 as the employees' representative. Having refused to do so, the company violated Section 8(a)(1).


The UAW and UAW Local 862 was found to have:

*Engaged in unfair labor practices in receiving assistance and support from Voith in its meetings with employees to urge employees to sign membership cards and check-off authorizations.
*Illegally obtained recognition while not representing an "uncoerced majority" of employees.
Coerced employees to sign membership cards and check-off authorizations.
The remedy handed down by Judge Rosenstein includes in relevant part:

* immediate restoration of employment to the 166 Teamster members who lost their jobs as a result of Voith's unfair labor practices.
*employees will be repaid for any loss of earnings due to discrimination against them.
payment of delinquent employee benefit fund contributions.
*Orders for Voith to bargain with Teamsters Local 89 and rescinded the unilateral wage and benefits reductions.
all current employees hired by Voith will be compensated for the lost wages resulting from Voith's unilateral decision to reduce wages and benefits.
*A Voith official will be required to read aloud the notice of violation to employees.
Download: